Kenmore Family Medicine
1/17/2022 OFFICE IS CLOSED DUE TO INCLEMENT WEATHER. ALL APPOINTMENTS ARE CANCELLED. WE WILL BE CALLING PATIENTS BACK TO RESCHEDULE. STAY SAFE!!
When to seek emergency medical attention if you have tested POSITIVE for Covid:
Look for emergency warning signs* for COVID-19. If someone is showing any of these signs, call 911 or seek emergency medical care immediately:
Trouble breathing
Persistent pain or pressure in the chest
New confusion
Inability to wake or stay awake
Pale, gray, or blue-colored skin, lips, or nail beds, depending on skin tone
*This list is not all possible symptoms. Please call us for any other symptoms that are severe or concerning to you.
Call 911 or call ahead to your local emergency facility: Notify the operator that you are seeking care for someone who has or may have COVID-19.
If you have tested positive and do not have any of the emergency warning signs:
Stay home. Most people with COVID-19 have mild illness and can recover at home without medical care. Do not leave your home, except to get medical care. Do not visit public areas.
Take care of yourself. Get rest and stay hydrated. Take over-the-counter medicines, such as acetaminophen, to help you feel better.
When can you end isolation? What do you do after?
If you tested positive but you were never sick, you can end isolation after five days.
If you were sick, you can end isolation when:
You haven't had a fever for 24 hours (without using a fever suppressant like ibuprofen or Tylenol)
AND your other symptoms are getting better (The exception is the loss of smell and taste because that can last weeks or months, and doesn't necessarily mean you're contagious.)
After five days, if you're still feeling sick, wait until you've met the above criteria to leave isolation, the CDC says.
In both cases, after the five-day isolation period ends, the CDC says you can re-enter the world. However, you should wear a mask anytime you're around other people, including members of your household.
PLEASE REVIEW NEW GUIDANCE FROM CDC AS OF 12/27/2021
https://www.cdc.gov/media/releases/2021/s1227-isolation-quarantine-guidance.html
HOLIDAY HOURS:
Thursday, December 23rd our office will be closing at 3 pm
Friday, December 24, 2021 our office will be closed.
Thursday, December 30, 2021 our office will be closing at 3 pm
Friday, December 31, 2021 our office will be closed.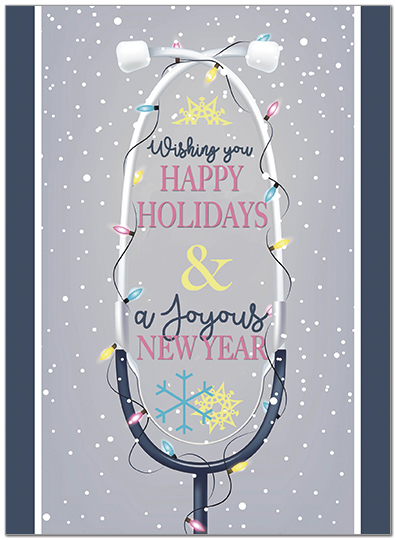 Medicare patients may receive a call to update their health history . This is so Medicare can accurately assess their medical conditions. This service is endorsed by KFM and we highly encourage you to participate. They will NOT ask for any personal information from you
We strongly encourage those eligible for a COVID-19 booster to visit http://erie.gov/vax for information on scheduling COVID-19 vaccination and booster shots.
COVID BOOSTER: We will not be administering the COVID Booster shot. Please contact your local pharmacy to schedule an appointment or visit https://www3.erie.gov/covid/covid-19-vaccine-information for more information.
PEDIATRIC COVID VACCINES: For information, please visit https://www3.erie.gov/covid/covid-vaccine-ages-5-11
Have you been in contact with someone with COVID? Follow theses CDC guidelines: https://www.cdc.gov/coronavirus/2019-ncov/your-health/quarantine-isolation.html
HOLIDAY HOURS:
Wednesday, November 24, 2021, our office will be closing at 12:00
Thursday, November 25, 2021 and Friday, November 26, 2021 our office will be closed.
Friday, December 17th, our office will be closing at 12pm for our Staff Holiday party.
Friday, December 24, 2021 our office will be closed.
Friday, December 31, 2021 our office will be closed.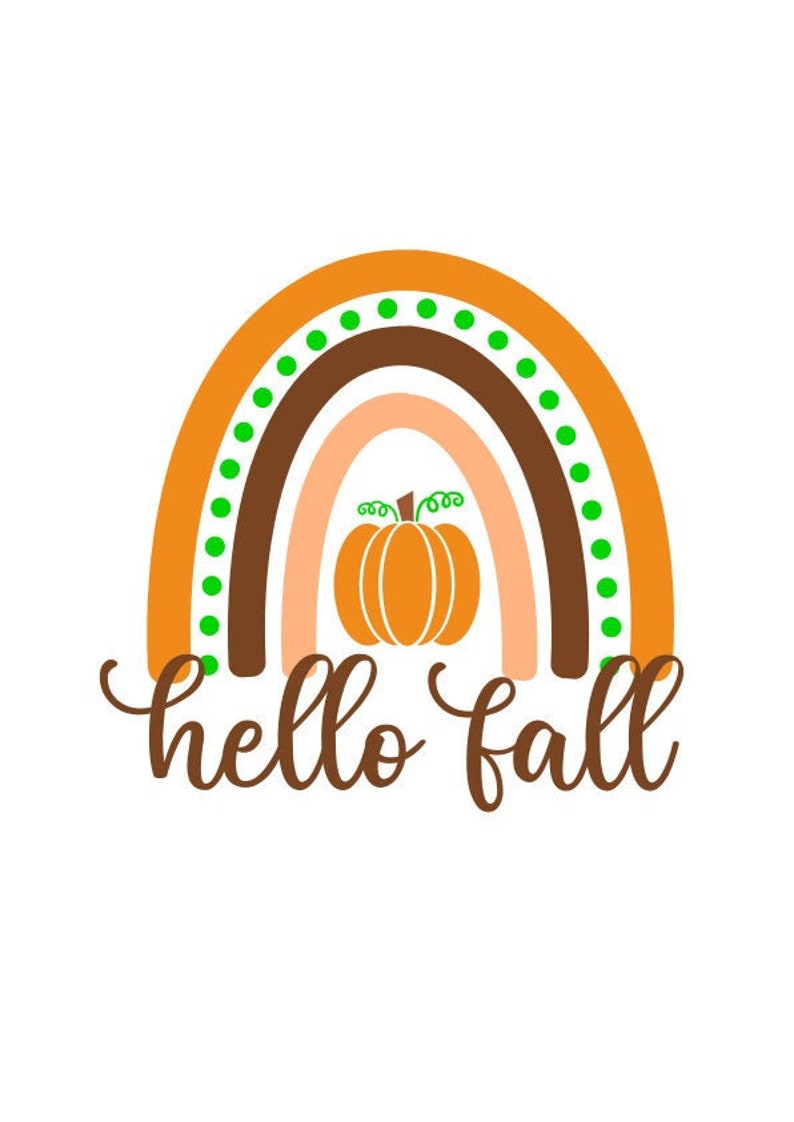 KENMORE FAMILY MEDICINE TURNED 25!!!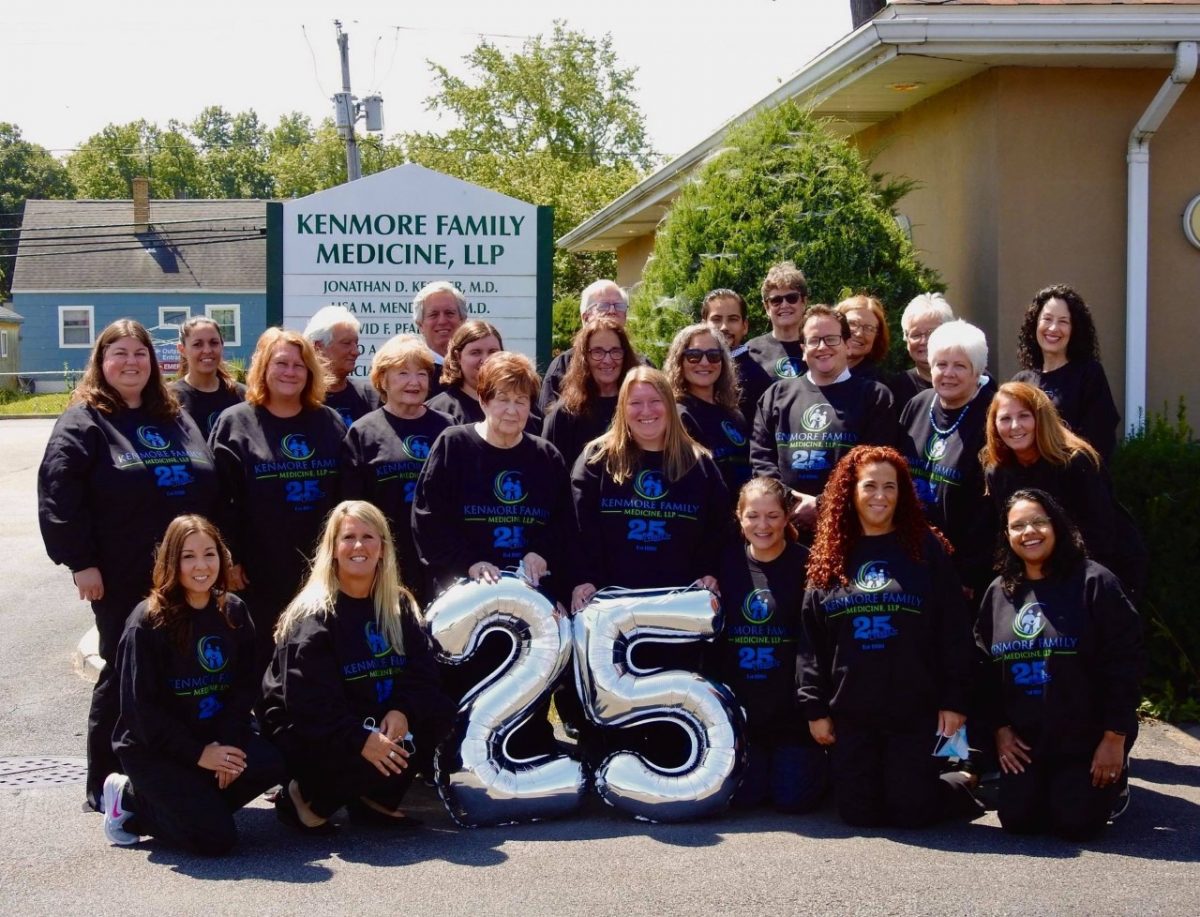 COVID-19 Update October 2021
IF YOU HAVE BEEN FULLY VACCINATED AND ARE FEELING ILL, PLEASE CALL OUR
OFFICE FOR A SICK VISIT. PLEASE HAVE PROOF OF VACCINE WHEN YOU ARRIVE AT
THE OFFICE. PER CDC GUIDELINES, MASKS ARE STILL REQUIRED IN OFFICE.
IF YOU HAVE NOT BEEN VACCINATED, PLEASE CALL BEFORE COMING INTO
THE OFFICE IF:
YOU HAVE A FEVER, SHORTNESS OF BREATH, OR COUGH,
IF YOU HAVE BEEN EXPOSED TO A KNOWN COVID CASE
OR
IF YOU THINK YOU HAVE BEEN EXPOSED
DO NOT COME TO OUR OFFICE, PLEASE CALL OUR OFFICE AT 875-6700 TO SPEAK WITH A PROVIDER.
THANK YOU! THIS IS FOR THE SAFETY OF OUR STAFF AND ALL PATIENTS.
THURSDAY, SEPTEMBER 2nd Our office will be closing at 2pm to celebrate Dr. David Silverstein, Patricia Champlin, NP and Joelle Gabor in their retirement. Please call our office the next business day at 8:30 for any non-urgent calls.
RETIREMENT NEWS:
Dr. David Silverstein and Patricia J. Champlin, NP are retiring as of August 6, 2021!! Letters have been sent to all their patients. If you have not received a letter, please call our office.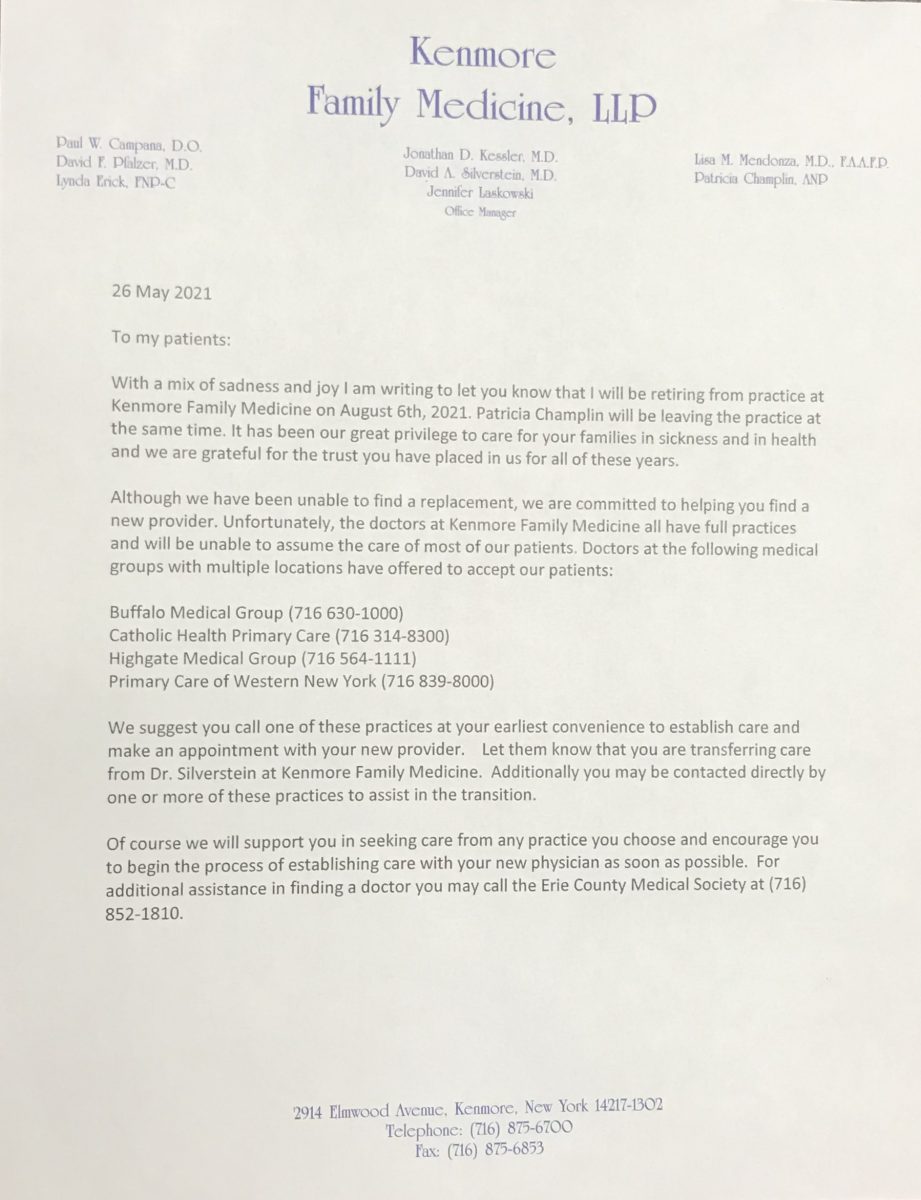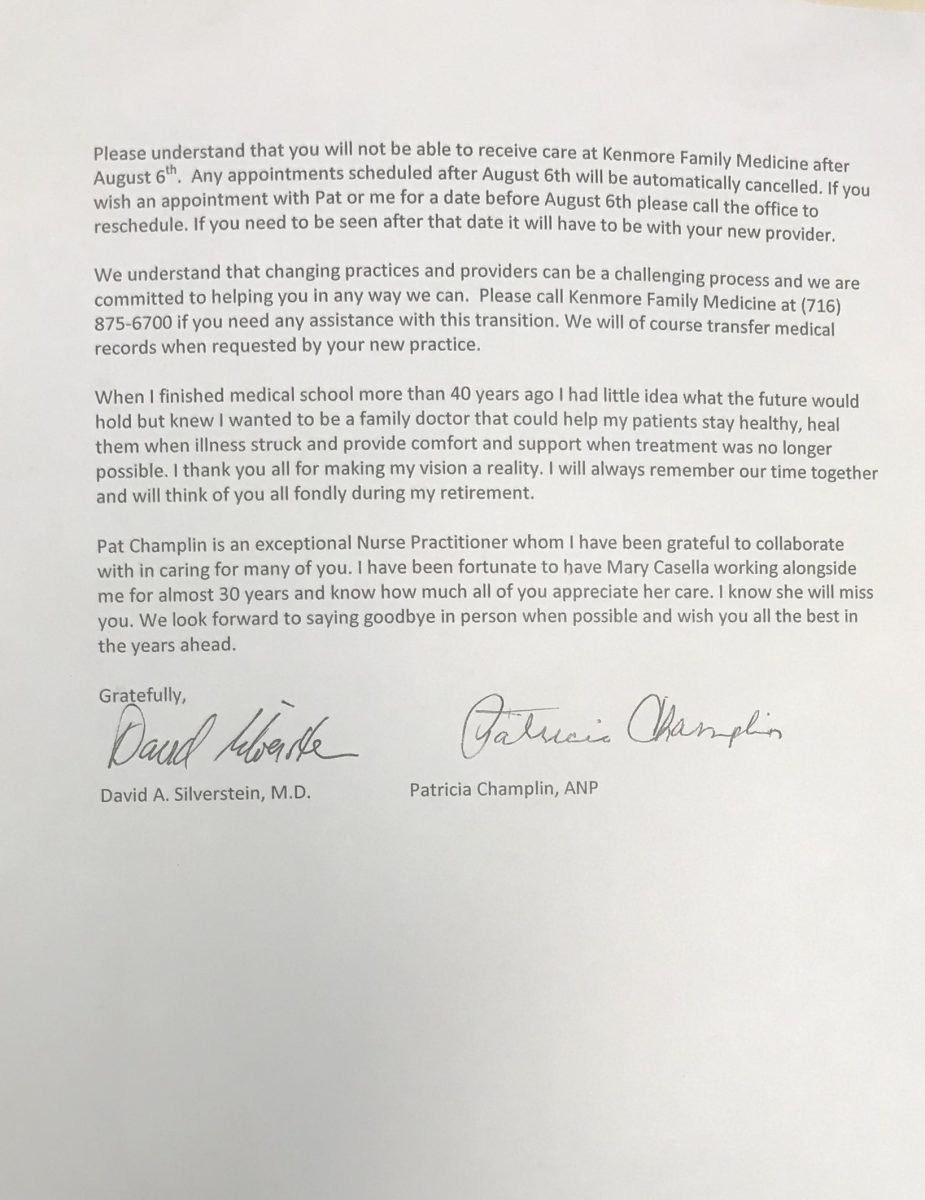 COVID INSTRUCTION SHEET: (click on link below)
https://wnydocs.org/resources/Documents/WNY%20Working%20Group%20-%20'COVID%20Instruction%20Sheet'%20-%2012-21-2020-3pgs.pdf?mc_cid=6486fa0f0f&mc_eid=cdde4518f0
NEW ADDITION TO KFM!
We are happy to announce Robert Bennett, PharmD, Clinical Pharmacist, is now part of the Kenmore Family Medicine Team. Rob will be working closely with our providers and patients to ensure the highest quality and most cost effective solutions to your pharmaceutical needs. If you have any concerns about your medication regimen , feel free to ask your doctor for more information.